Artists making healing art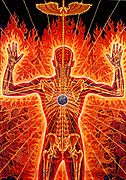 Alex Grey,
Artists are discovering that art is transformative to themselves, others and the earth. Alex Gray, a New York painter and sculptor is a visionary and healing artist . He has made a large installation piece called Sacred Mirrors that shows us our own beauty and oneness and allows us to see how we are all connected to nature and each other. His figures often show all realms of consciousness, the unity of male and female, the wings of spirit flying, and peaceful and wrathful aspects to existence. . His pieces are deeply healing and are used by cancer patients as meditations. Walking through an exhibition of the life size figures is calming and inspiring. The pieces were assembled in a book, Sacred Mirrors, which is used by people with illnesses and people on a spiritual path to heal. He is part of the movement that is bringing art back to its roots of transformation and power.
Hollis Sigler is a breast cancer survivor who was a well known painter before she became ill. She was a leader in the feminist art movement, painting scenes about her own life as a woman. After her diagnosis she painted a series of paintings that chronicled her inner life with breast cancer. Her work expressed her thoughts about her illness and her anger at the way society views woman with breast cancer. Her paintings evoke a sense of vulnerability, isolation, and sometimes waning hope. The exhibition of her works has toured hospitals nationwide and has been shown at the United States Congress. It has been moving and transformative to women with or without cancer. Woman with breast cancer realize that they are not alone in having deep images of their illness.
On this site we will also tell the stories of healing artists who have used art to heal themselves, others, or the earth. Virginia Kelley, a Maine sculptress worked for years in hospice with patients and staff making art. At the hospice she asked each staff member from the doctors to the janitors to make a small sculpture depicting what they did to relax after work. She combined the pieces in a bronze column that stands in the garden. It makes each staff member realize their connection to a community and see their rest. Since her hospice experience, her own art has become deeply healing. Her sculpture Quan Yin shows a hundred hands made of clay arranged in a mandala. Each hand holds one of seven symbols that represent medicines of different cultures. Quan Yin synthesizes healing from diverse cultures into an image of compassion. This piece of a hundred open hands together in a circle is so beautiful it has come to be the icon for art in medicine for many people working in the field.
We will also tell the stories of the environmental artists who are now making art to heal the earth. Dominique Mazeau is a poet and artist from Santa Fe, New Mexico. She has made an exquisite journal of poems and drawings of cleaning up the Rio Grande River over many years. She has made sculptures from the trash and she teaches school children about the river with her poems and her art. She calls herself a "Heartist" and believes that all her art is now healing for those around her. Vigil Hamilton is a Utah artist who has made sculptures in nine sites around the earth. In her project, The World Wheel, she asked people in villages in remote areas three questions: what is their essence, what keeps them from achieving it (the illness), and what would help them be who they are (the healing). She then made sculptures with the people of the villages that illustrate the healing. For the Bauls in India, what they needed, the healing, was a community hut to teach the children music, and her art there was a spiral shaped music house for the village.
Links